Öcal Gebelek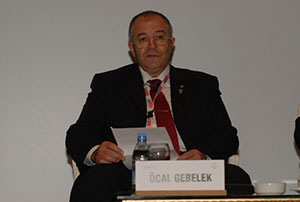 Ömer Öcal Gebelek graduated from Gazi High School in Ankara, Turkey. He studied physics at ODTU (Middle East Technical University) and worked for several different companies following his graduation.
He attended the very first certificate program for exporters launched by the IGEME (Turkish center for development of exports) when the Turkish Government launched the exports spurt in 1982. After graduating from the program, Gebelek joined IZDAS Dis Tic. A.S. as an exporter. He is one of the pioneers of Turkey's iron and steel exports.
Gebelek also served at major Turkish steel producers ICDAS and Kaptan Demir Celik, before founding his own company ROLMET Dis Tic. Ltd. He was involved in ferrous scrap exports from Romania, Russia and other countries. Gebelek and his partners also introduced the induction furnace technology in steel production to Turkish steel industry, and built the production facilities at some rolling mills. 4 Steel mills with 200,000 tpy capacity are working at full capacity.
Gebelek joined IREPAS in 1986 and represented Turkey in several IREPAS meetings. He served as vice president of IREPAS and organized 3 IREPAS meetings in Turkey. He also served as the chairman of the IREPAS Raw Material Suppliers Committee.
He has later taken his experiences to his beloved Beşiktaş JK to help the sports club in administrative and procurement matters since August 2012.