Ioannis Meimaroglou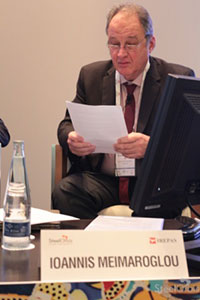 Mr. Ioannis Meimaroglou was born in Athens in 1951.
He graduated from National Polytechnic (EMP) of Athens and went on for post-graduate studies in Ecole Nationale des Ponts et Chausses and the Institut National Informatique de Gestion in Paris, France.
He has been involved in steel industry and the raw materials market since 1981,  by exporting steel scrap from Russia and Ukraine mainly to Greece and Turkey.
His company Helveco Intertrade SA, established  in Switzerland, became well known in the international scrap market as a reliable supplier to the main regional buyers of the industry.
He has been a participant of IREPAS meetings and acted as chairman of the IREPAS Raw Material Suppliers Committee between the period 2005-2013.